14.06.2010. IX International White Nights Tango Festival 2010 !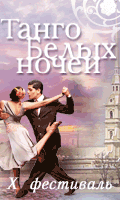 Welcome to the 9th annual international White Nights Tango Festival on 11-14 JUNE, 2010. This year our Festival will be attended by the star cast of Maestros: Guillermo Merlo & Fernanda Ghi, Rodrigo "Joe" Corbata & Lucila Cionci, Stefano Giudice & Marcela Guevara, Alejandra Arrue & Sergio Natario, Silvio Grand & Mayra Galante, Rodrigo Palacios & Agustina Berenstein.
Details:
All festival events will be held at the hotel "St.Petersburg" on Pirogovskaya emb. 5/2. With excellent central location, the St.Petersburg Hotel at the Neva River Embankment offers one of the best views in St.Petersburg, as well as friendly personalized service and variety of rooms at different price range. For the festival participants we offer special "White Nights Tango" hotel rates valid until 10 April.
The 4 days of the intensive festival program offer you to take part in classes, dance at the milongas and attend concerts.
Music: Soledad Orchestra, Primavera Orchestra, Demoliendo Tangos.
Gallery: White Nights Tango Festival 2010. Photos by Lika Chekalova.
Gallery: White Nights Tango Festival 2010. Photos by Nikolay Krusser
Gallery: White Nights Tango Festival 2010. Photos by Natalia Belova